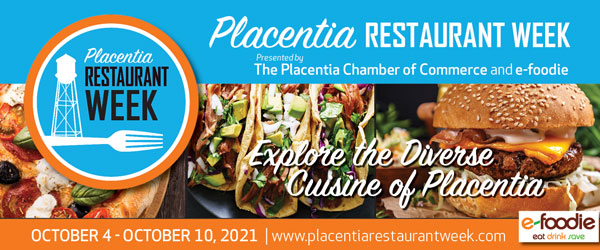 Grand Prize
Duffy Boat Ride in Newport Harbor
for up to 8 people and a wine,
cheese and crackers basket.

Participating Restaurants Rules
Dear PlacentiaRestaurant Owner/Manager,
You'reinvitedtoparticipateinour first-ever Placentia RestaurantWeek, scheduled for November 2-8, 2020.
Now, more than ever, our restaurants need the extra exposure now that we have decided not to host The Taste of Placentia this year.
If you have any questions, please contact us, at info@placentiachamber.comor by phone at (714) 528-1873.
Deadline for Particpation
FridayOctober 23rd,2020: Submit participation form and information on how to submit is included in this packet. Participation forms received after the deadline will be placed on a wait-list.
Registration Instructions
Register by Friday, October 23, 20201)
Email completed form toinfo@placentiachamber.com2)
Mail completed form to: Placentia Chamber of Commerce 117 N. Main Street Placentia, CA 928703)
Or register online:www.placentiarestaurant
Menu Tips and Suggestions
In crafting our Restaurant Week-specific menu, think about the goals of the event: Introducing new restaurants and cuisines to local and visiting diners.Stimulating off-season business while providing a special value to the customer. Raising Placentia's economic vitality and visibility as a dining destination
Benefits to your Restaurant
In addition to Restaurant Week's economic benefits, your business will enjoy certain marketing and media exposure benefits by participating.
Media Exposure
Print Publications: Highly visible window posters, newsletters, and regional magazines.
Online Promotion: Active online promotion from the City of Placentia and the Placentia Chamber of Commerce
Social Media: Facebook, Instagram, and local food blogs.
Email: Multiple announcements will go out to partner, restaurant, and media databases throughout Placentia.
Benefits
Restaurant week is a great way for businesses to draw in new customers, while also keeping existing customers satisfied and interested. However, many owners question if giving out a week of deals will actually help their operation or if the specials will eat up any potential profits. Here are a few reasons why joining your city's or region's restaurant week is a good idea:
1)Although you may be offering your meals for reduced prices, restaurant week bring in more traffic than usual, which will make up for the lower dollar amount.
2)Restaurant week gives you a chance to impress customers with your food and service, and the experience may persuade some guests to come back and become repeat customers
3)Taking part in restaurant week can boost your reputation as a high-quality and fashionable restaurant in your community.
4)Participating in your city's restaurant week can also help improve the local economy and build your city's reputation as a foodie destination, which will improve tourism
Type pf Promotion
It is HIGHLY recommended to create a special menu, drink pairings, or discounted deals during this week, but it is not a requirement. The promotions and deals that you can promote will entice more customers to your restaurant and set you apart from the other participating restaurants. Please attach your special menu with the forms or email us your promotions along with this form. Restaurants who do not have a special offering during this week will be listed on the bottom of our participating restaurant week page and be linked directly to their website. We are dedicated to making this event simple and accessible. In return, we ask for your cooperation. If you do not meet the terms of the guidelines outlined below, you will not be eligible to participate in this year's event. By signing below, you agree to comply with the following guidelines for participation:
Requirements – Before
Friday,October 23rd
Sign the participation form and return in one of two ways, or sign up online:
Complete and email toinfo@placentiachamber.com, or
Mail to Placentia Chamber of Commerce117 N. Main Street Placentia, CA 92870
Starting Wednesday, October 12th
Begin displaying Restaurant Week Posters (you will be provided with these) in visible areas.
Distribute Restaurant Week advertising (postcards, flyers, graphics) to guests to inform them about the upcoming event.
Email a special Restaurant Week announcement to your e-mail subscribers.
Requirements – During
1.Complete Restaurant Week Participation Survey following the event.
2.Promote your Restaurant on Social Media and tag #placentiarestaurantweek.
Please return this form by October 23,2020 by email at info@placentiachamber.com or by mail to Placentia Chamber of Commerce 117 N. Main Street, Placentia, CA 92870