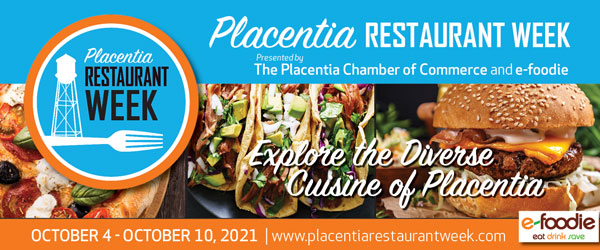 Grand Prize
Duffy Boat Ride in Newport Harbor
for up to 8 people and a wine,
cheese and crackers basket.

Frequently Asked Questions
What is Placentia Restaurant Week?
Placentia Restaurant Week is a 7 day dining experience taking place at restaurants throughout Placentia.
During this week restaurants may offer anything from promotions to special menu items!
When is Restaurant Week?
Monday, October 4th to Sunday, October 10th
What's the Idea Behind Placentia Restaurant Week?
Restaurant Week was created to support your local culinary community. This week not only introduces new customer to restaurants, but also enhances the economic vitality of Placentia.
What Restaurants are Participating?
Click here for a full list of restaurants that are participating in Placentia's 2021 Restaurant Week!
How Many Receipts From Participating Restaurants do I Need to Enter for the Raffle?
You must have a minumum of 3 receipts. They must be dated from October 4-10. They must be from different restaurants and multiple receipts from the same order will NOT be accepted.
Can I Enter the Raffle Multiple Times?
Yes! You need a minimum of 3 receipts to start. Receipts in increments of 3 will be counted separately to increase your chances of winning.
Are there Tickets?
There are no tickets or passes required for Restaurant Week. Simply dine out and enjoy with friends and family while supporting your local community and then bring your receipts with the fillable form to our Chamber office or submit online.
Where Do I Drop Off the Receipts?
We will be accepting receipts at the Placentia Chamber of Commerce Mail Slot located at 117 N. Main Street, Placentia and online. Once we confirm your receipts are valid and from participating restaurants, we will enter your name into the raffle.
What if I Want to Submit Receipts Online?
Take a photo or scan your receipts and fill the form here.
Submit Receipts Online
What if One of my Receipts Does Not Qualify?
The Placentia Chamber of Commerce has the right to refuse any or all receipts if they do not follow the required qualifications such as date/time, repeat receipts, wrong restaurant receipts, not having enough receipts, etc.
What is the Prize?
There will be multiple prizes available. The list of prizes will be announced once it is finalized.