Placentia Restaurant Week Presented by the
Placentia Chamber of Commerce and

e-foodie
Congratulations to our Restaurant Week Winners!!!
Thanks to all who participated in our first-ever Restaurant Week.
We ended up with 33 groups participating with 127 receipts total!
What a great way to support our local restaurants!
We're looking forward to putting on the event again next year.
Grand Prize Penthouse at Residence Inn,
$50 gift card from The Bruery,
$100 Visa Gift Card for dinner out in Placentia.
Prize donated by the Placentia Chamber:
Yenlan Li
$200 Gift Card from OC Sculpt Spa
Margaret Sexton
90 minute Duffy Boat Ride in Newport Harbor
plus wine, cheese, crackers basket from Bristol Farms
John Cannizzo
Italian Gourmet Basket donated by Bristol Farms
Patrick Choi
Dinner & Drinks for Two from Market Fresh Grill Cafe (2 certificates)
Nicole Hassan
Janine Young
Congratulations again to our winners and our participants who may not have one a prize,
but won great culinary experiences!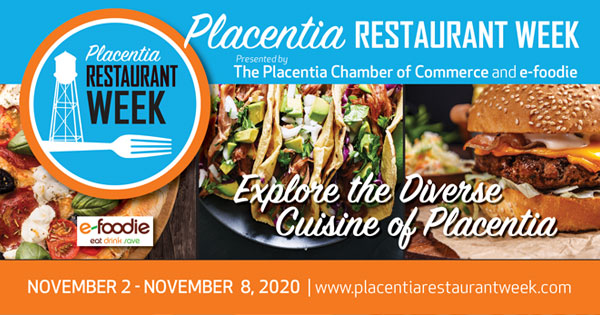 Grand Prize