What you get with your Sponsorship
Pillars of the Community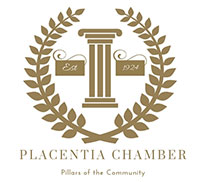 The organizations featured below provide essential financial support to the ongoing economic vitality and support of the Placentia Chamber and the community. With their financial support, the Placentia Chamber is able to continue to forge a strong and diverse business climate to benefit all members of the Placentia Chamber and businesses in surrounding cities.
Pillars of the Community: An Investment with Immeasurable Returns
Joining our Pillars of the Community annual membership places your business in an elite group of businesses who understand the importance of supporting the local economy. We have three levels of membership to suit your needs and budget. For more information, or questions about this prestigious sponsorship opportunity, please contact Michele Severson at (714) 528-1873.