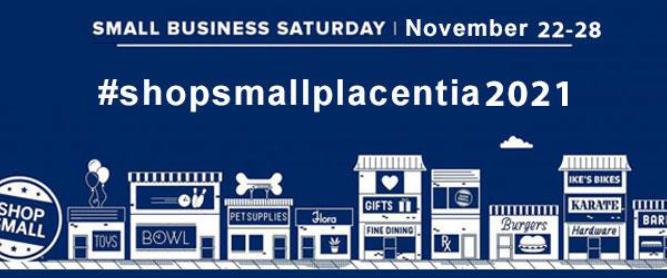 SCAVENGER HUNTER INSTRUCTIONS
Let's "Shop Small" by supporting local, privately-owned businesses for your holiday shopping instead of going to malls or online. The Placentia Chamber has organized our 6th Annual Scavenger Hunt to promote our amazing, local small businesses the entire Thanksgiving week.
What you need to know and do:
1. Get your Scavenger Hunt Clues starting Monday, November 22nd at:
the Placentia Buzz
Instagram @placentiachamber.com
www.PlacentiaChamber.com by clicking on the Small Business Saturday picture
2. Map your plan of attack. The clues are listed in geographic order and the hours the businesses are open are included in the clue.
3. You can hunt for clues any day this week through Sunday, November 28th. Businesses may have special giveaways and discounts that are listed with the clues.
4. Two Ways to Win:
 Snap a quick pic at each location you visit and post it on Facebook and Instagram with #shopsmallplacentia2021. Don't forget to tag @PlacentiaChamber on IG and make sure your profile is public for the duration of the event so we can find you! One lucky hunter will win a special prize loaded with items donated by our participating businesses. The more pics/entries, the better chances of winning!!!
For every five clues you find, you will be eligible for prizes donated by our participating businesses. Don't forget to include your name, phone number and email information on your clue sheet.
5. When you are done hunting, either drop off your completed clue sheet at 117 N. Main Street, Placentia, CA 92870 or email to info@PlacentiaChamber.com.
This fun, community event is open to everyone! You don't need to be a Placentia resident, so pile all your out-of-town relatives in the car and join us! This is a great way to discover and re-discover some hidden Placentia gems while working off those holiday calories!
If you have any questions regarding this event, please contact Michele at (714) 528-1873 or send an email to info@placentiachamber.com.